Peace to all! We are getting a tad irritated about people who promise one thing before releasing a product, then deliver something totally different. The brief for this particular release was "
beats which had been used before on other people's projects
", but upon listening, we could recognise only one beat ("Soul asylum", which became Isosceles' "Shout out"; do not worry, we will post the track very soon!).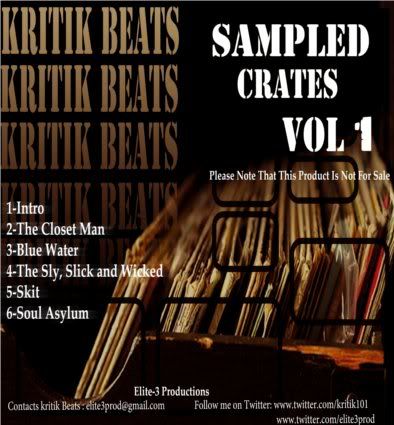 Now that we have got that matter out of the way,
Phil the Kritik
delivers yet another head-banging collection of some of his beats for rappers to do as they please with (only if you send him the finished product). The enclosed document states that he is putting together a re-make album that is going to be put out towards the end of the year.
So flex your download muscle and get working.
LINK
:
Sampled Crates Vol. 1
[
approx. 24Mb
]
PS. Do not forget that Phil and
Core Wreckah
are working on a project. For more details, check out their
facebook page
.