Peace to all!
T-Mech
has been under our radar for a long time now, with a string of independent releases under his belt, both as a solo artist and as part of the three-man crew
Anonica
. He is a rapper/producer based in
Maseru
, and just unleashed what we believe to be a very strong offering onto the
Lesotho
hip-hop scene.
'
The Console Mixtape
' is a solid, thirteen-track offering featuring among other,
Skebza-D
,
Z-Digi
, and our friend
Core Wreckah
. If you are in
Maseru
, do get in touch with him via his
facebook
page. He is selling the mixtape for twenty bones. However, in case you cannot get in touch with him, he has been generous enough to let us put the music up here for download. Do enjoy, and give feedback please. One!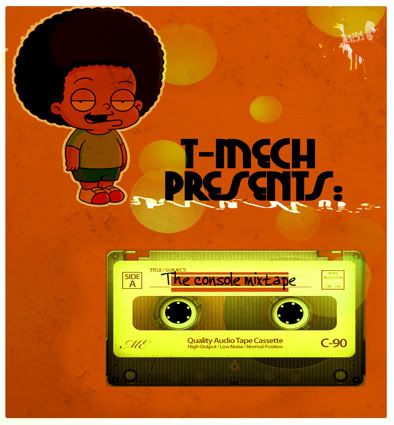 Tracklist
:
1. 2lo (prod. by Rev Raven)

3:34


2. Falling (prod. by Anonymous)

3:34


3. Cum thuze (w/Emcee Conundrum)(prod. by Skebza-D)

3:33


4. Imagine (ft. Skull Grey and Core Wreckah)(prod. by Mr. Mech)

3:34


5. Etsa (prod. by Mr. Mech)

3:34


6. Hip-hop's voice (prod. by J-One)

3:19


7. Just bars (prod. by J-One)

2:30


8. Tell me (ft. Soul Life)(prod. by Enough Big E & Al)

3:54


9. Chesa(rmx) (ft. Dubbel D & Shuffle)(prod. by Mr. Mech)

3:56


10. M.O.R.E (prod. by Katleho 'Tha Enforca' Motsohi)

3:34


11. Ha ba re bone (ft. Skebza-D)(prod. by Mr. Mech)

4:13


12. Su'M.O.R.E(clash of the titans)(ft. Z-Digi, L-Tor, Ice)

5:16


13. Ba re ke mang (ft. Emcee Conundrum)(prod. by Mr. Mech)

3:53
LINK
:
T-Mech - The Console mixtape
[
approx. 70MB
]