Well, thought we shouldn't cluster the last post with a lot of stuff, so decided to drop this one separately. The homey
is no stranger to these ends, and he's been mad consistent with his hustle. This is the latest in a string of projects that he's got lined up, an instrumental album called
Pretty Black
. According to the man himself:
PRETTY BLACK is a mini-tape ive decided to compile as a little taste of the type of music ive been making nowadays and it consists of some of the beats ive made for the artists in the various locations ive listed above...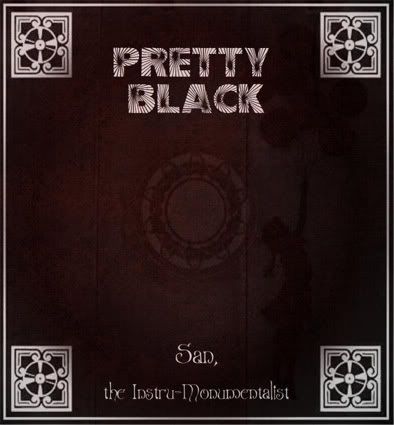 Tracklisting
:
01. Her face like summer's rain
Description
:
a little sumin sumin i cooked up for an album im working on with producer
Phil the Kritik
. The album is called "
CLASSIC DIRT
" and it drops soon...still dont know if the beat will make it in though.
02. Find love
Description
:
a joint i made for Lesotho emcee Kislev...the kid is working on his mixtape to drop soon, looking to have it done before the Grahamstown Arts Fest cos thats where he plans to push it.
03. These women
Description
:
a joint i made for a P.E native, he goes by the name of
Dee Doc
and currently resides in Cape Town. Check for the god if you a Capetonian, he's to be blazing brakes real soon.
04. Hop scotch (rhythm of the mind)
Description
:
a soulful kinda number...still dont quite know where to put that...but I've decided to give u a sneak into that as well....
Link
:
Pretty Black
You can also follow
San
on
twitter