Miles Davis
is one of my favourite jazz musicians.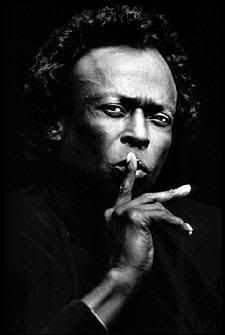 I love jazz, and he's one of the main people who embody what I sway to. Dude has influenced so many people (
Coltrane, Tyner, Sanders
), and done so much cross-genre dopeness that it's hard to ignore him. I've been getting multiple orgasms from the
'Bitches Brew'
album. But
'Kinda Blue'
happens to still be one of my favourite joints. Proper tribute to him coming up in a few.
Apart from looking at girls all day, my other pastime is writing, especially about stuff that I dig (oh well, what else can one write about?!). I did an interview with the elaborate Cape Town crew
Ill Skillz
, and it just got published in Varsity newspaper. Peep out the bigger image
here
. I've seen them at least four times since I got to here, and they rip it on every occassion. Their chemistry is just so dope, and I do reckon they are going far (well, technically, they are far already, for their European tour is well in place). But they didn't publish the photo I attached, so there you have it.
And the bigger image
here
The Ill-Skillz pic:
Went to see
340ml
live. Dudes are consummate professionals, know how to control a crowd, and can keep a show infinitely interesting. And people loved every second of it; they did songs from their debut album,
Moving (2005)
, along with joints from the recently-released
'Sorry for the long wait'
. I'm not sure about the latest album though, since every shop I've gone to does not have it in stock. I remember when I first heard these dudes back in 2003 on
Yfm
(shout out to AK). Thought it was a British reggae band by the name of
Steel Pulse
. But no, it was 340. Have dug them eversince. Check out the frontman
Pedro
on the pic.