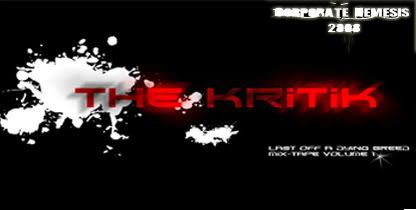 Peace be to all of you and yours, ladies, gentlemen, lads and lasses. Hope all are staying up, positive, and recharged to make an impact upon the world.

I've decided to do a write-up on one of Core Wreckah's favourite people to work with, the Uganda-born produer Phil the Kritik. And I would say the single most favourite, but that would just be undermining the man's [Core's] underpinning philosophy: "be cool with everyone as long as they are cool with me."

Phil's musical achievements, according to me at least, are nothing short of staggering. In a period of about two years, he has managed to go from a regular bloke to a very respected producer, held in high regard by his peers and other beings in and out of Lesotho's hip-hop circles. His profile states that he has done work with, among others, Codi Cox, MOX(one half on rap group One Clip), and Poltergeist. He is part of the Mic Vandalist crew, but also does a lot of work outside of that camp. I reckon that refusal to conform is what forms the basis for his success. Apart from that, his humility just elevates him a step higher above a good couple of producers.

Recently, The Kritik released a promo, Loud and Out EP, as a prelude to his forthcoming LP/compilation which goes by the same name. To be honest, I have no clue why he chose 'Loud and Out' as an album title, but it sounds cool nonetheless. Featured on the EP are an array of artists from within the Mountain Kingdom right through to North America. Now tell me, isn't that dope?!!

Before I leave, these are direct quotes from The Kritik's profile:

On Loud and Out, the profile has this to say: "Although it has been a difficult and challenging experience since it was my first music release the project helped me gain a positive attitude and increased my abilities in the production field. The mixtape features various artist from Lesotho and South-Africa."

And another quote follows...

As part of networking with other people in the production field, I have with Dj Macs on a street cred mixtape which featured a lot of Local artist from Lesotho. With the success of the street cred mixtape we are currently working on the second installment.

Peace people, thank you for visiting. Oh, and some goodies for you to download and enjoy:
Loud and Out Vol.1 EP
And check
The Kritik
out on his space:
The Kritik's myspace page
N.B.
You can also become friends with him on facebook. Just search for
Phil Lionel
.