Hey y'all, princes and poets across the universal sphere, what's really good? Another day, another opportunity for us to discover more about artists in our beloved land,
Lesotho
. Today's post is on the emcee
Poltergeist
, a part of the
Lesotho Rhyme Force
crew who is now based out in
New York City
.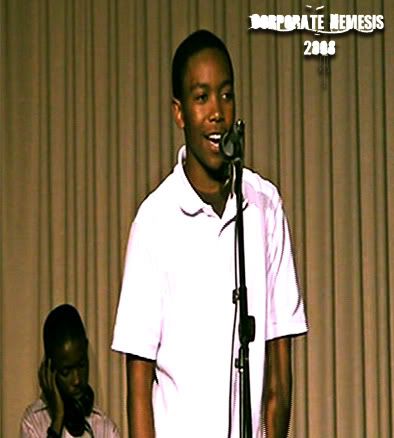 He's been on the scene for quite a minute now, and, through the extensive amount of work he's done with
Corporate Nemesis
, I've come to respect him as a well-rounded artist, fully worthy of a record label's money. Trust me, he is
that
good! We did some stuff with him over these past
June holidays
when he was at home. Didn't get a chance to edit all the tracks, but peep the link below for this one banger that he left.
Currently, dude is down with a label called
Invent Horizons
(check em out on
myspace
, a Ney York City-based independent label founded by
Jonathan Tanners
about three years ago. Big things are currently in the pipeline, so keep an eye out. The following extract is taken off of
Po's
myspace
page:
About Po
Poletrgeist as an emcee emerged from frlorida streets in Maseru, Lesotho in 2002. I started rhymin after meetin up wit my boys poison foul, kislev, spit ferrocious, and Fairo to mention a few. These catz were all emcees and i loved and still love what they do lyrically so i started spittin as well. the crew, then Cutz on Rapz, was where i grew as an emcee under the wing of Fairo and the Catz mentioned above and alot more actually... Basically that's about it...if u wanna hear more just holla at yo boy. One.
So he's on the grind, and has recently started a hip-hop society at Columbia University, the place where he's stationed. I've decided to post a good number of goodies, so check em out and leave comments in the comment box. Respect!!!

Fresh joint:
Untitled Track

(Biz-ark's mix)
-
approx. 4MB
An interview I did with him (he comments on important issues related to
emceeing
,
air play
, and the
authenticity
of certain elements in hip-hop):
Poltergiest interview
-
approx. 8MB
(
10 mins.
)
P.S. If you want me to post up part two of the interview, leave a comment in the box.
Oh, wait up...more goodies. Check out this video of a performance he did!!!
Now, please say thank you! Happy weekend ;-)